Looking for a quick getaway?
Our concierges have compiled a list of seven family-friendly attractions in and around the DMV which make for the perfect day trip or long weekend.
Have somewhere to add to our list? Just leave us a comment and we'll share your suggestion!
Virginia
Mount Vernon – Fairfax, VA
Mount Vernon is a National Historical Landmark located 15 miles south of DC on the Potomac River in Fairfax VA, neighboring Alexandria.
What was once an active plantation to President George Washington is now one of the nation's most visited historic sites.
Combining an iconic and authentic 18th-century home, beautiful gardens and grounds, fascinating museum galleries, immersive exhibits and programs and unrivaled dining and shopping; Mount Vernon is an incomparable national treasure.
For the past 200 years, Mount Vernon has offered family-friendly fun with guided tours, holiday celebrations, special events, activities and more.
Some of the upcoming summer specials are:
Father's Day Weekend:  "General Washington" will greet visitors, pose for photographs and discuss his role as husband, stepfather, and Father of Our Country in the program "Father to the First Family" on the beautiful greens in front of the Mansion. Also, treat your father to a special BBQ at the Mount Vernon Inn!
Fourth of July:  Visitors will be able to view a dazzling display of made-for-daytime fireworks during the annual Independence Day event! The event also includes an naturalization ceremony for 100 new citizens, military reenactments, a wreath laying ceremony, free birthday cake (while supplies last), and a visit from "General and Mrs. Washington."
If you can't make it to a holiday celebration, try one of the specialty tours and activities offered each day of the year!
Upon arrival, grab the program guide, Today at Mount Vernon, which notes all of the custom activities taking place the day of your visit.
Some popular favorites are:
Signature Tour
Garden & Landscape Tour
All the President's Pups
National Treasure Tour
Dinner for the Washington's
Tour Washington's Library
For more information on the estate, click here.
Shenandoah Valley
Located in the Blue Ridge Mountains, Shenandoah National Park is just 75 miles from the busy city of DC, but is a great escape from the daily hustle and bustle of the city.
The park stretches from Front Royal to Waynesboro and offers breathtaking scenery with cascading waterfalls, wooded trails, scenic drives and more.
While the park is most popular in the fall for the vibrate foliage, spring and summer are just as beautiful! Spring showcases the fully bloomed wildflowers and trees and summer is full of lush greens.
The park has four entrances, all of which merge you onto Skyline Drive—find the closest entrance and get driving directions here.
The park does charge an entrance fee. This small fee goes into upkeep of the park.
When you enter, park rangers will greet you with a map and other park information… then it is up to you where to start the fun!
Here are a few ideas:
Ranger Program – each weekday has a different ranger-guided program
EarthCache Program – take part in a high-tech game of "hidden National Park treasures"
Hiking: you can grab a map of the trails from any of the Visitor Centers
Birdwatching: the park boasts over 200 different species of birds
Camping: make a night of it and spend the evening camping on the park grounds
Dining: check out the Skyland Resort, Big Meadows Lodge, or one of the food stops along Skyline Drive
Picnic: bring some food and drinks for an outdoor meal with your friends and family
For more information on the park, click here.
Lake Anna – Spotsylvania, VA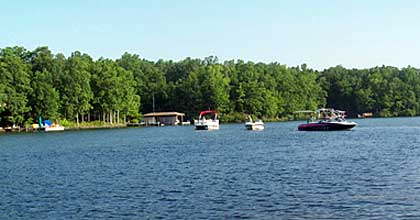 Located just 80 miles south from the busy city of DC, Lake Anna State Park is one of Virginia's most popular lakes.
The lake is 17 miles long and surrounded by rolling farmlands and hardwood forest with 250 miles of shoreline and 13,000 acres of beautiful, clean water.
There are no major boating restrictions on Lake Anna and is easy to access through several marinas open to the public and the Lake Anna State Park.
Sailing is best below the Route 208 bridge, providing about 8 miles of open water with several long creeks.
Jet skiing, kayaking, fishing, swimming and other water sports are popular on the Lake—check for rentals here.
Water sports aren't the only things Lake Anna has to offer! Other fun activities include:
Hiking
Picnicking
Camping and cabin rentals
Local wineries and golf courses
For more information on the lake and park, click here.
Maryland
Antietam Battlefield – Sharpsburg, MD
If you're a history buff, make the short drive to Antietam.
Famous for being the "bloodiest battle in American history," the modern day national park boasts acres and acres of open land, monuments and other historical structures, located just 64 miles from D.C. and  69 miles from Baltimore.
When you first arrive, take a few moments to explore the visitor center.  Inside you will find museum exhibits and the museum's store. There is also a 26-minute introductory film which is shown on the hour and the half- hour that gives you important information about the battle and park itself.
You are welcomed to take a self-guided 8.5 mile auto tour through the battlefield that consists of 11 different stops or join a Park Ranger for a battlefield talk.
Entry to the park is $4.00 per person or $6.00 per family, children under 15 are free.
One of the most popular summer events is:
Living History Weekend – Defenders of the Sunken Road Weekend at Antietam-Volunteers will portray Confederate soldiers that defended the Sunken Road on Saturday, August 10th and Sunday, August 11th.  Join the living historians to learn about the soldiers who fought at Antietam. Weapons and tactics demonstrations will be on Saturday at 11am, 1pm and 3pm.  Sunday the demos will be at 11am and 1pm.
For more information on the battlefield, click here.
Havre de Grace
"Unique on the Chesapeake" is how the city of Havre de Grace describes itself.
If you are looking for a quaint get-a-way for the day, head to this beautiful place on the Susquehanna River.
Located right off of Interstate 95, 41 miles from Baltimore and 75 from Washington, D.C.  It has something for everyone from museums to shopping, sailing to hiking, antiques to golf.
Walk along the water on their promenade and when you get hungry, stop for a bite one of their restaurants.  While there is plenty of public parking, if you like to walk, you can easily stroll their streets and admire their way of life on the water.
Summers at Havre de Grace are jam packed with fun events, concert series, car shows, and more! Some of the most anticipated include:
Car Show & Flea Market – On Saturday, June 21st the fourth annual event showcases cars & trucks, but also offers artists, crafters, photographers and other vendors. Proceeds from the show will benefit local Veterans in need and the American Legion Post 47 home.
Christmas in July Craft Show – On Saturday, July 12th, the first annual craft and art show will be presented by the American Legion Auxiliary, Post 47. Pit beef & drinks by Sons of American Legion. Vendors wanted. Crafters inside and outside.
Seafood Festival – The weekend of August 8th-10th will boast food, fun and live entertainment on the Chesapeake; and seafood delicacies from the bay and beyond! The festival will have over 100 arts and craft vendors, 30 food vendors serving more than 200 different menu items. Also included: a charity raffle, silent auction and over 45 hours of free live entertainment on three stages.
For more information on the town, click here.
Day Trips Outside of the DMV
Gettysburg, PA
Across the Mason-Dixon line is Gettysburg Battlefield, known being the turning point of the  Civil War and inspiration for President Lincoln's "Gettysburg Address".
This park also offers a self-guided auto tour, as well as bus, hiking and bicycle tours. Outside vendors provide horseback riding through the trails of Gettysburg Battlefield as an alternative way to see the sights.
Entry to the park is free, however there is a fee for entry into the museum, exhibits and film.
Gettysburg Battlefield is located 59 miles from Baltimore and 75 miles from Washington, D.C.
Just about each weekend, Gettysburg Battlefield host's "Living History Weekend" where volunteer groups representing Union and Confederate troops provide a weekend of "living history" at Gettysburg National Military Park.
Other popular events for this summer include:
Gettysburg Festival Brass Band Concert– On Saturday, June 14th The Wildcat Regimental Band will perform at the Gettysburg National Military Park Museum and Visitor Center and present an evening concert at the Pennsylvania.
Battle of Gettysburg Anniversary Programs – July 1st-3rd, Special National Park Ranger-guided Battle walks and other programs will be offered over the three day anniversary. Free of charge, a full schedule of anniversary walks will be posted by early June.
For more information on the battlefield, click here.
Lancaster, PA
A short drive from Baltimore and Philadelphia is the quaint city of Lancaster. Rich in history and adventure, this city becomes a great day trip for the entire family.
Don't forget about Pennsylvania Dutch Country loaded with history, shopping, dining & family fun!
We suggest visiting Amish Country to learn more about Amish traditions and lifestyle; the Strasburg Railroad for a murder mystery dinner; and the Route 30 outlets for some steals & deals on your way home!
Post by: Ashley M. & Shelley W.